Pr

ojec

t:
 Instagram - Add a Feature
UX Design Tools:
 Adobe XD, InVision
For my
second
project at the
Ironhack Bootcamp
, I was tasked with the challenge to analyze an already existing and highly adopted app and incorporate a
new featur
e
into the existing product.
Instagram
was launched on October 6, 2010. This first post was from Instagram co-creator Kevin Systrom.
"Believe it or not, people took photos before Instagram. People even shared photos before Instagram. With its snazzy filters and easy sharing options, soon we were all addicted to posting our holiday hot dog legs and hipster food snaps".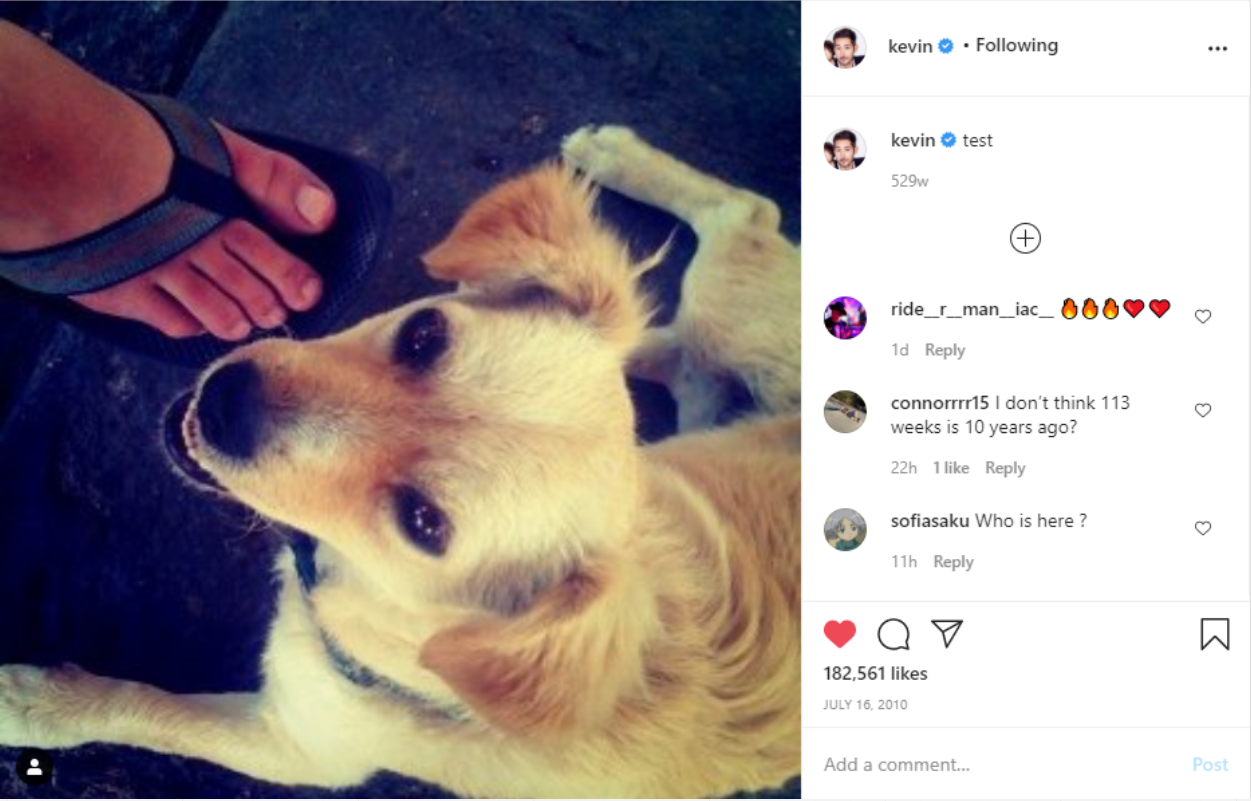 As of August 2020, footballer,
Cristiano Ronaldo
had the
most popular
Instagram account. Well, he's the most-followed person. Instagram's own account had 
over 360 million
following.
Ronaldo has over 237 million followers.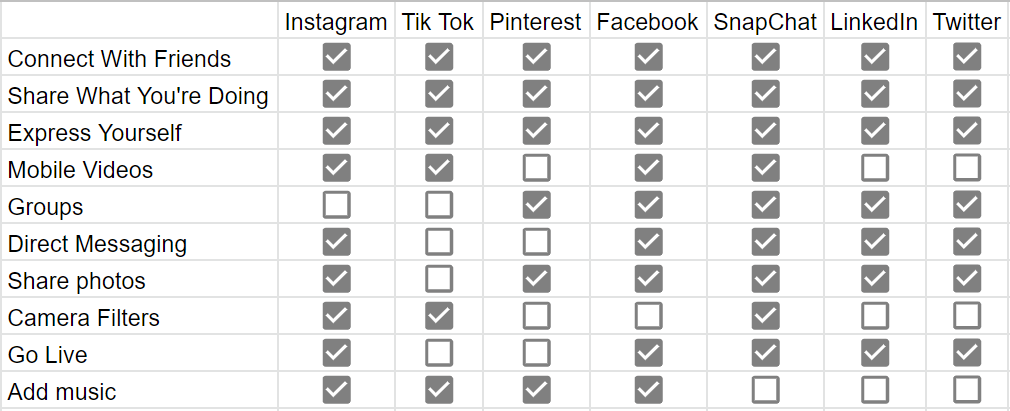 I created a
Competitor Feature Analysis
as you can see to the left. I made a list of features provided by the various social media platforms to access how
Instagram
compared with its competition.
After examining the different features, I plotted out my
Market Positioning Chart
below. I compared
community-oriented
to
less community-oriented
and
"hard-to-find people like me"
to
"easy-to-find people like me"
.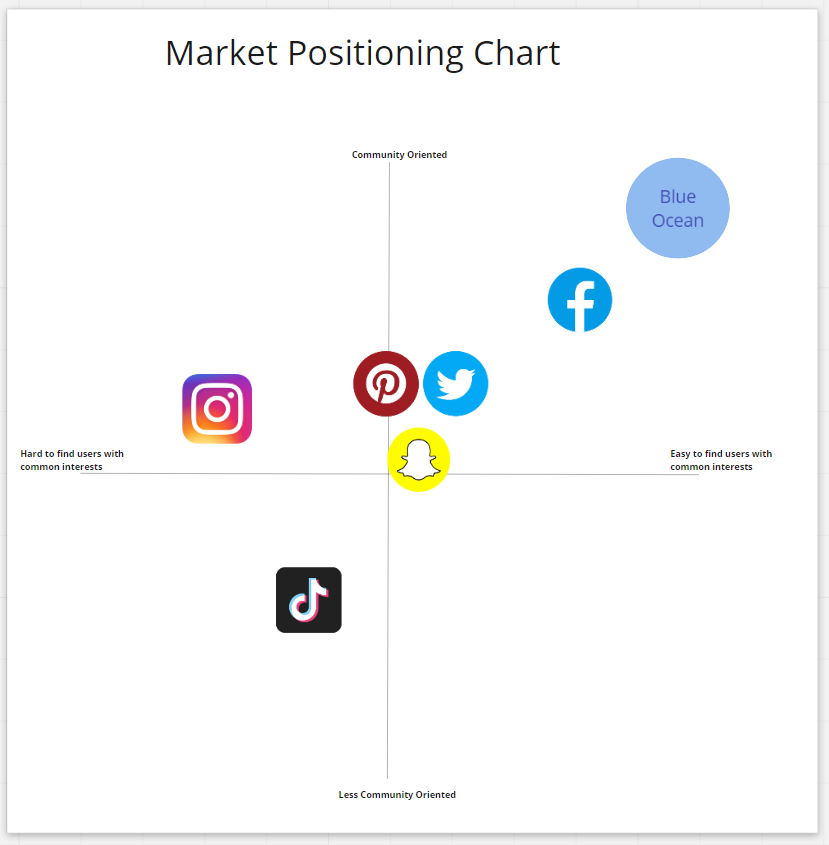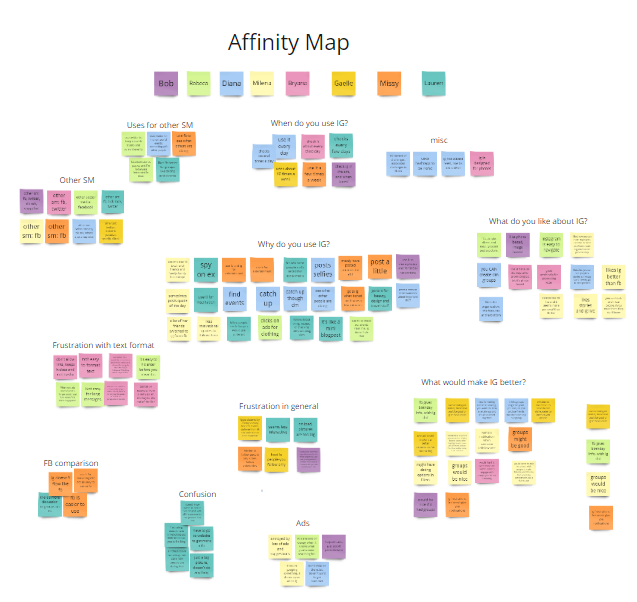 I interviewed
eight Instagram users
on
Day 1
. (
It's a four-day sprint! No time to waste!
) I typed up my data into virtual sticky notes. 
It was time to sort those insights into an
Affinity Map
. First grouping by what the users
like
about IG,
don't like, why
they use it,
how
often they use it
,
what
they wish were different
, what
other social medi
a
they are using, and why they
like or don't lik
e
other social media.
What Instagram Users Are Saying:
"It's simple, direct, and easy…you just post a picture".
"good aesthetically for promoting my business"
"use it to share photos and for social networking"
"text formatting can be frustrating, you want it to look a certain way and it's all squished together"
From the data, I created an
As-Is Scenario Map
going through what a user
might experience
when using the app..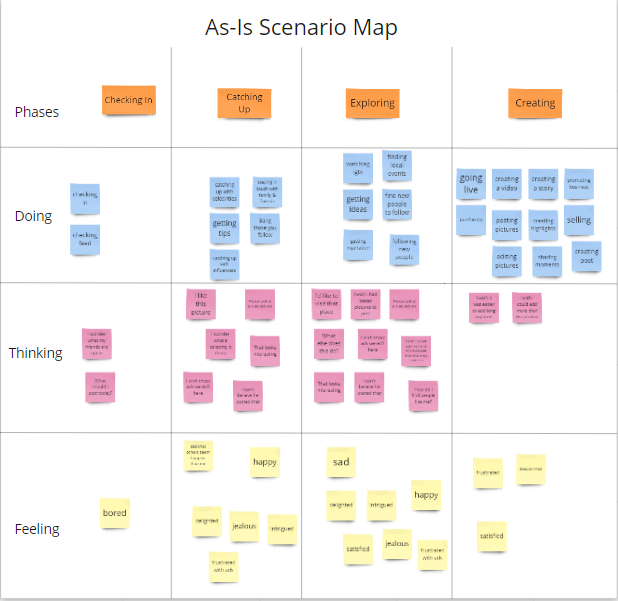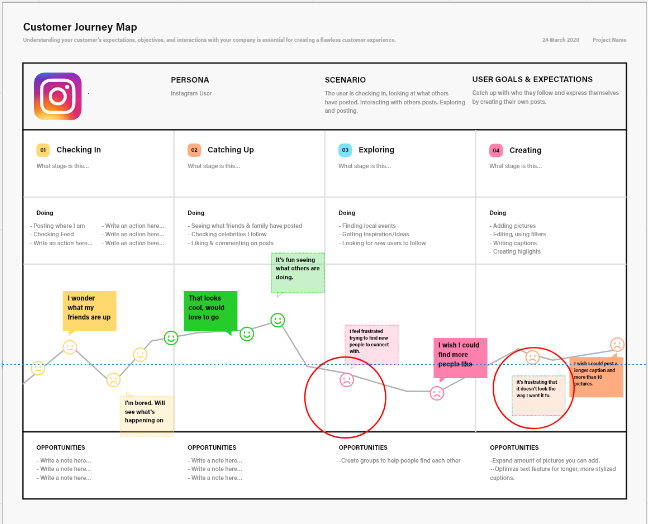 Which led right into the
Customer Journey Map
that further illustrates what the user is
doing, thinking, and feeling.
​​​​​​​
I was able to refine my
opportunities
which led to developing a feature that could
bring value
to the Instagram experience.
Opportunities I pulled out of the User Journey were:
Create Groups to help users find other users.
Expand the number of pictures you can post.
Optimize text feature for longer, more stylized captions.
I developed my three
Problem Statements
and turned them into
"H
ow Might We"
questions.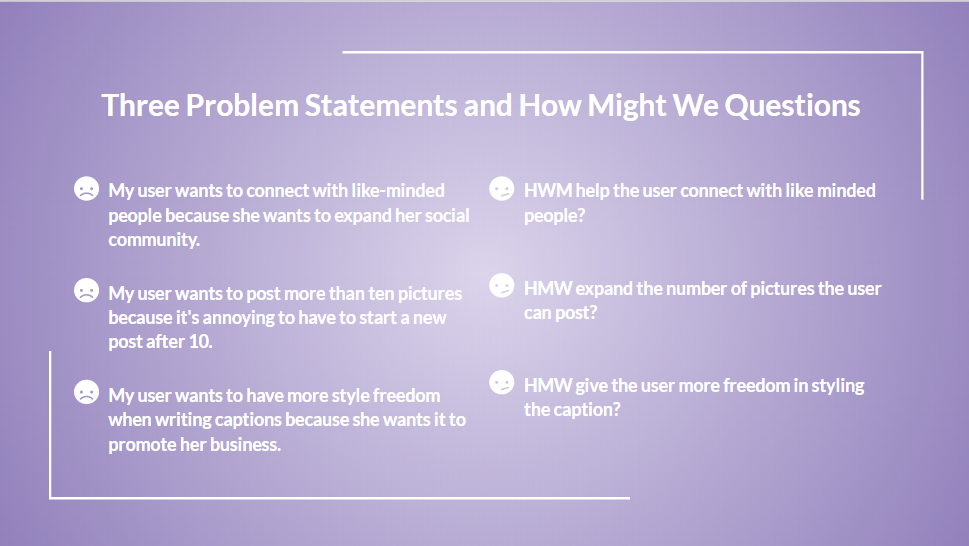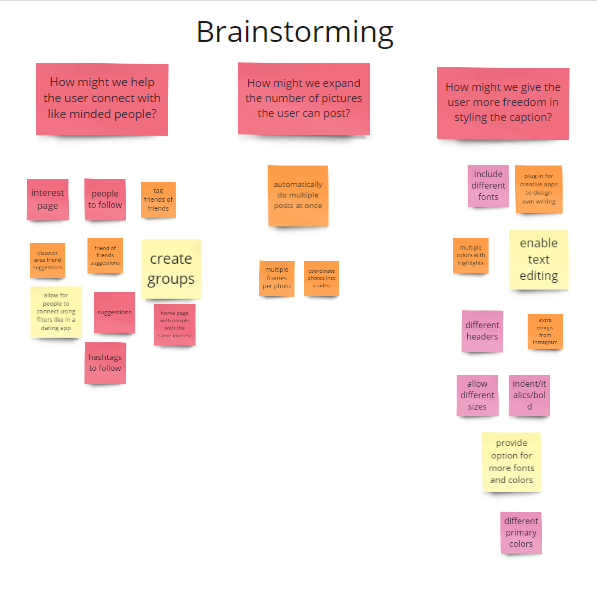 Posing the HMW questions was the jumping-off point for
brainstorming
. Since I was working alone on this project, I invited some of my classmates to join in the brainstorming session.
I narrowed the brainstorming ideas into the
MoSCoW Method
. Finding the options that were
must-haves
. Helping me get a step closer to my solution for the new feature. Based on my research up this point, I decided to focus on adding a feature that would help
users connect with groups
 that would be formed by
common interests
.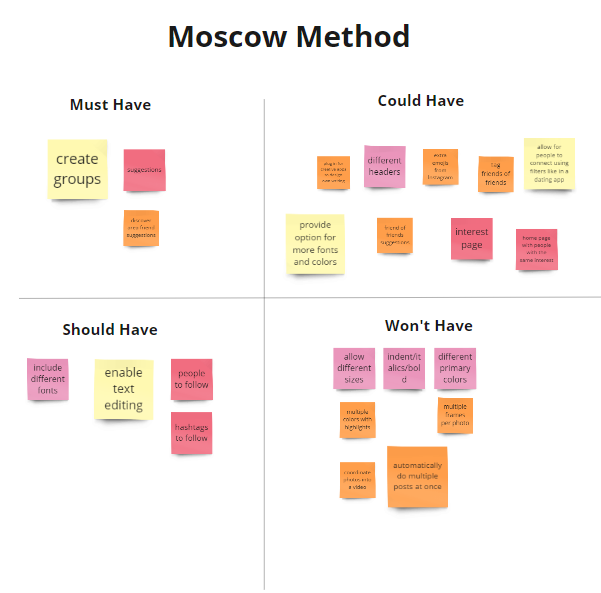 When looking for users to follow on Instagram, the user wants to find people with similar interests, so that they can connect with people they can relate to, which will make them feel happy.
Day 3:
I came up with my 
MVP
Using
Jobs To Be Done
as my guide, my
Minimum Viable Product
, MVP was to add a
"Groups" feature
to Instagram. Similar to Facebook, users can start groups that are specific to hobbies, common interests, etc.
I ran
five tests
on my lo-fi prototypes. I linked my prototype into
Maze
and here are some of the results:
Direct Success 83.3%
One Tester Gave Up
Misclick Rate 28.6%
Most users had trouble on the first screen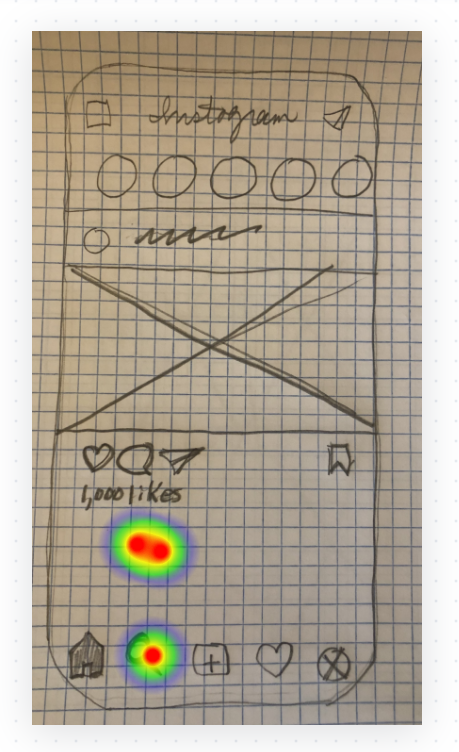 I designed my
Mid-Fi Prototypes
using
Adobe XD
. Due to time constraints, these were taken directly from the Lo-Fi Prototypes.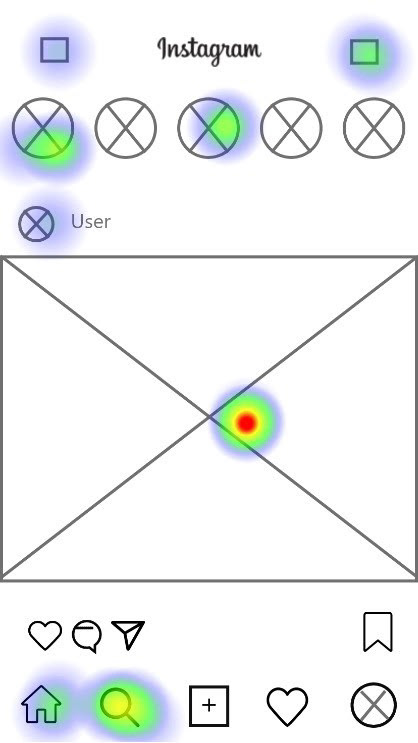 Day 4: 
My project was due tomorrow. I was in a rush to complete the four-day sprint and did not adequately address this issue of confusion on the first screen. Again, I linked my prototypes in
Maze
and tested five users. The misclick rate for the home page was 75%. An improvement, perhaps credited to the cleaner easier to read mid-fi.
Now, the really
fun part
!! I created my
High-Fi Prototypes
 in Adobe XD. It was a lot of fun
recreating
Instagram's design.
Success & Failure Metrics
How many groups are created
How quickly users are able to create groups 
New users added.
Lower number of groups created 
Time on task of creating new groups
Churn rate.
I learned so much in my
second week/second project
at Ironhack. I loved working on the prototypes and using Maze. It was a lot of fun seeing what I can do, flexing my own
UX/UI "muscle"
. However, I missed the benefit of working with a team. I did utilize the expertise of my instructor
David Fast
, TA
Dave Ostergren
, and my classmates throughout the sprint.
More research.
I want to do further develop my high-fi prototypes. Implement more XD features.
Do more testing on my prototypes.
And, of course this was only Week 2, I was sure to improve on my UX/UI skills over the next ten weeks. :)